Introducing H.A. DeHart & Son
H.A. DeHart & Son has proudly served the New Jersey, Pennsylvania, and Delaware region since they first opened their doors in 1884. During the early years, the company was known for repairing and manufacturing wagons. Today, H.A. DeHart is one of the largest transportation equipment distributors of their region - selling and servicing truck and dump bodies, street sweepers, buses, snow and ice removal equipment, garbage and refuse trucks, cranes, and Great Dane trailers.
H.A. DeHart & Son has been partners with Great Dane since 1952 and is the oldest distributor of Great Dane trailers in the United States. The company has a full line of parts, service, and repair facilities to handle all facets of the transportation market and has won several sales awards, including Great Dane's King Pin award.
H.A. DeHart has a compelling business story that has set the foundation for the company's success for countless years. We interviewed President of H.A. DeHart, Joe Tompkins, and DeHart's Great Dane Sales Representative, Rich Zawrotny, to learn more about the company's long-standing history and dedicated partnership with Great Dane.
Joe has been with H.A. DeHart for 28 years and has served as President of the company for the last 5 years. Rich has been with the company and selling Great Dane trailers for almost 8 years.
H.A. DeHart also recognizes Phil "Cliff" Clifford and Allan Mielke, who have both contributed to H.A. DeHart's success over many years.
Cliff serves as the Chairman of the Board of Directors for H.A. DeHart. He has been with the company since 1977 and has laid the groundwork to help make the company what it is today. With 44 years of service at H.A. DeHart, Cliff has played a significant role in providing guidance to the company on shop operations and has always been considered the "go-to" person for major trailer repairs.
Allan served as a Great Dane Sales Representative with H.A. DeHart & Son for 30 years, and recently retired last July. During his time at H.A. DeHart, Allan sold over 2,000 trailers and won 9 Great Dane King Pin Awards over his tenure.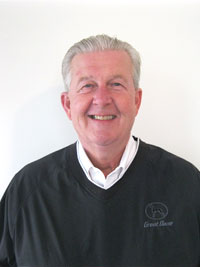 Pictured Left: Joe Tompkins, President of H.A. DeHart & Son. Pictured Right: Rich Zawrotny, Sales Representative
Pictured Left: Phil (Cliff) Clifford , Chairman of the Board of Directors for H.A. DeHartPictured Right: Allan Mielke, Sales Representative
How did you get your start in the trailer industry?



J. Tompkins: When I was growing up, my father worked for Eager Beaver Trailers - a construction equipment trailer manufacturer. I landed my first job at Eager Beaver as a Sales Trainee and later went on to becoming a Territory Manager for the Mid Atlantic States. During the weeks when I was not traveling, I would work Inside Sales for the company. I stayed with Eager Beaver Trailers for about 10 years, and then began looking for a job in sales that would not require as much over night travel. That's when I applied for a job opening at H.A. DeHart & Son. I was hired in 1993 to cover the 5 counties around Philadelphia in Southeast Pennsylvania.
H.A. DeHart is 137 years old. Tell us the story of how your company came to be.
Harry A. DeHart grew up in Flemington, NJ with 12 brothers and sisters and a father who was a Methodist preacher. At just 13-years old, he left his family's home in pursuit of learning the blacksmith trade. As it's been told, he was of a small build and wanted to become "big and strong" like the local blacksmith whom he idolized at the time.
While learning his trade and working in several blacksmithing shops in Paulsboro, NJ, Harry developed a dream of starting his own business. Shortly after, Harry met his soon-to-be-wife, Mary Thompson. Mary played a significant role in Harry's business success. She reportedly gave him two-hundred and twenty-five dollars that she earned while making and selling fish nets along the Delaware River, to pursue his dream and build a small shop across the road from Mary's childhood home in Thorofare, NJ. It was then that H.A. DeHart, a Thorofare based blacksmithing shop, first opened its doors in 1884.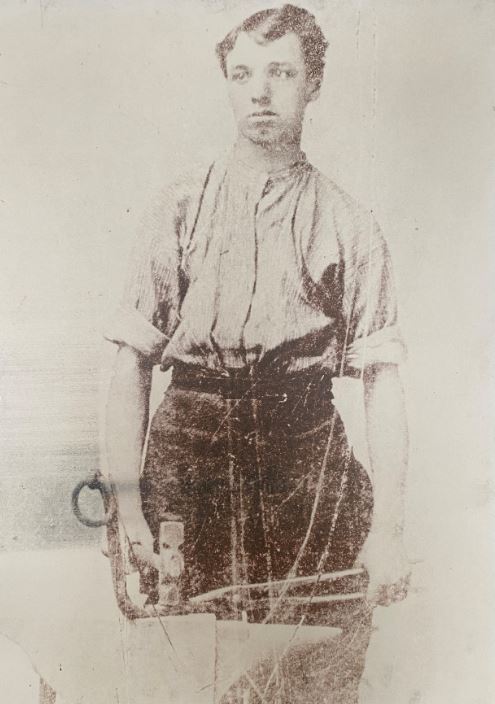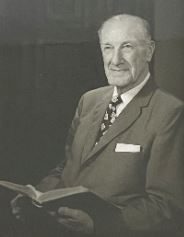 In the beginning years, Harry primarily offered general blacksmithing work at his shop, but soon after he began opening up his services to shoeing horses and repairing wagons for local farmers in the area. His repair work eventually led Harry to develop an interest in building and selling his own wagons.
In 1895, the first DeHart wagon was produced and the company grew into a much larger business as it began to manufacture and sell several types of wagons. In 1906 Harry's son, Harry Jr., joined the family business and the company changed it's name to H.A. DeHart & Son.
Pictured Left: Harry A. Dehart as a young boy. Pictured Right: Photograph of Harry Sr. as an adult.
What were some of the early wagons like that H.A. DeHart manufactured?
H.A. DeHart & Son was known for producing the first ever cut-under shelving wagon. The cut-under was designed for low-loading height, which allowed farmers to load their produce in and out much more easily. According to The Carriage Journal, "The main reason for the cut-under was to allow the wagon to be backed up to the curb on a crowded city street and allow the horses then to turn at a ninety-degree angle so they would not block narrow streets".
DeHart's Cut-under wagon became extremely popular among area farmers who would sell their farm-grown goods just across the Delaware River in Philadelphia. The wagons, with the name H.A. DeHart painted on their tailgates and sides, were such a popular sight to see that many believed Harry was a local farmer who must have been doing exceptional business.
As Harry's son became more active in the business, the company began exploring the motorized vehicle market. Harry, Jr. believed it was the wave of the future and he pushed the company to devote much more time to them.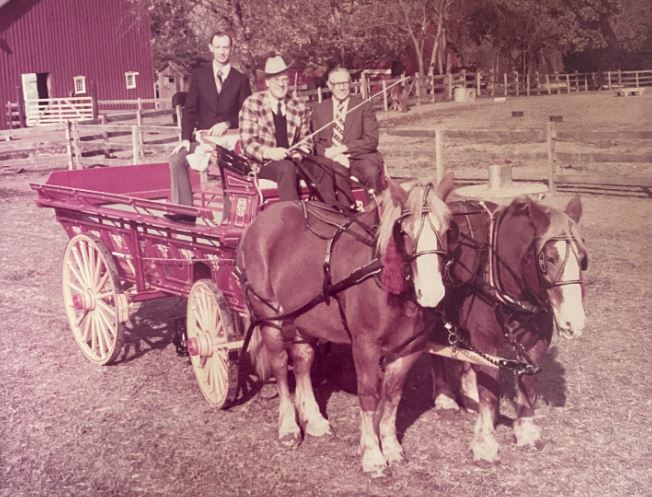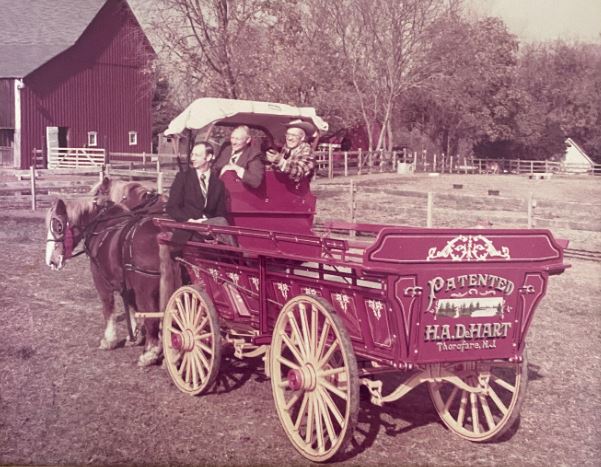 Photographs of an early patented wagon produced by H.A. DeHart. DeHart began manufacturing wagons in 1895, and produced several types of wagons, including some that were specifically built to transport ice and others that were specifically built to transport furniture.
Is there one thing you can point to that has contributed to the success of your business?
J. Tompkins: Our employees. They are truly our greatest asset. We are 100% an Employee Stock Ownership Plan (ESOP) business and have been since 1987, when Harry DeHart III retired and sold the family business to his employees. He did so in an effort to keep the family atmosphere of the business, even with no DeHarts still involved. Essentially, DeHart is not only employee operated, but it's also employee owned to this very day. We have also built long-term relationships with many of our customers who are equally just as important to our company's success.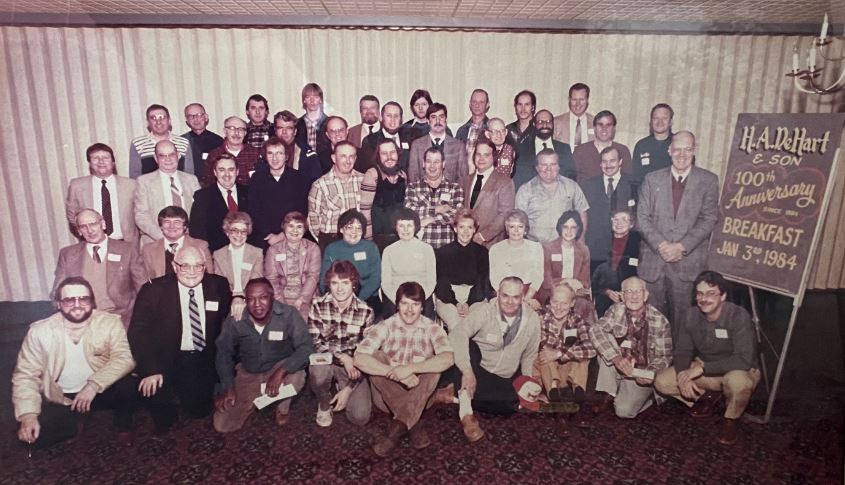 Team photograph from H.A. DeHart & Son's 100th Anniversary Breakfast celebration on January 3rd, 1984.
R. Zawrotny: Determination to be successful and knowing that we are selling the best trailers on the market.

Did this past year present any challenges for your business?
J. Tompkins: Being the President of H.A. DeHart & Son during a pandemic brought about many challenges. A lot of customers delayed purchasing new equipment because of fear of the future. However, we have seen an uptake in quoting and are hopeful to secure some large volume deals in the near future.
H.A. DeHart & Son has a long history of overcoming unforeseen challenges. The company has sustained through two major fires as well as the Great Depression. Even during these devastating times, DeHart has managed to persevere by taking care of its employees and customers.
During the Depression, the company recognized times were tough and issued a policy stating they would refuse to repossess any trucks sold on credit to their customers. In the 1950's, after the second major fire in DeHart's history, the company selected to keep their own employees working by paying them to rebuild the main shop and office building, which are still standing today. H.A. DeHart also retrained their blacksmiths who built wagons to become mechanics, adapting to the changing times ahead. There will always be unforeseen challenges, but H.A. DeHart has stood the test of time by consistently putting its workers and customers first, leading to an even stronger and more profitable business than ever before.
Top: Original DeHart building. Bottom: Second DeHart building after the fire - signifying a turning point for the company in shifting business to selling Model T Fords, Brockways, Norwalks, Fultons, Columbias and Pilot automobile chassis' with DeHart bodies on them.
Pictured Left: Brockway truck sold by H.A. DeHart & Son for the New York State Highway Department. Pictured Right: Coca-Cola Delivery truck sold by H.A. DeHart & Son.
What sets you apart in the Trailer Sales/service industry?
J. Tompkins: Ability to adapt. H.A. DeHart & Son has been selling Great Dane trailers for 70 years which is unique in the industry. There have been many changes over the past 70 years and we were able to successfully adapt to those changes.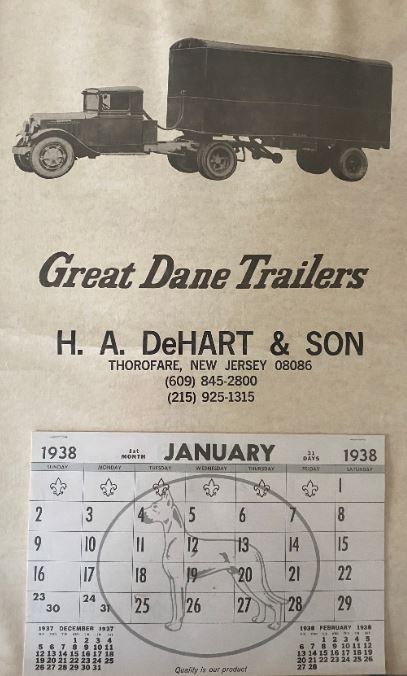 Pictured Left: A 1938 co-branded Great Dane Trailers and H.A. DeHart & Son calendar. Pictured Right: Top and bottom photos are Great Dane trailers sold to customers of H.A. DeHart & Son.

What is the nicest thing a customer has said to you about your products or services?
J. Tompkins: Our customers are always happy with our customer service. We strive to consistently provide exceptional sales and support to our customers because we know the best advertisement is word of mouth. Many of our customers are repeat customers - so great customer service is expected.
R. Zawrotny: After a new customer runs their Great Dane trailers for a while, they are pleased with the craftsmanship and efficiency of the trailer compared to other brands they may have owned previously.
"We strive to consistently provide exceptional sales and support to our customers because we know the best advertisement is word of mouth."
What do you enjoy most about doing business in Thorofare?
J. Tompkins: We have been in the same exact location since DeHart opened their doors as a Blacksmith shop in 1884. There is a lot of history here. Many local customers say they grew up or went to school with a DeHart family member. Our customers have a good understanding of who we are, where we are and the services that we provide. We are also centrally located for our area of responsibility with Great Dane.
Pictured Left: The H.A. DeHart & Son building located at 311 Crown Point Road in Thorofare, NJ. The building has undergone recent facility updates, including construction of a 2nd floor office space and development of a new Parts Showroom. Pictured Right: DeHart's new Parts Showroom, located on the 1st floor.